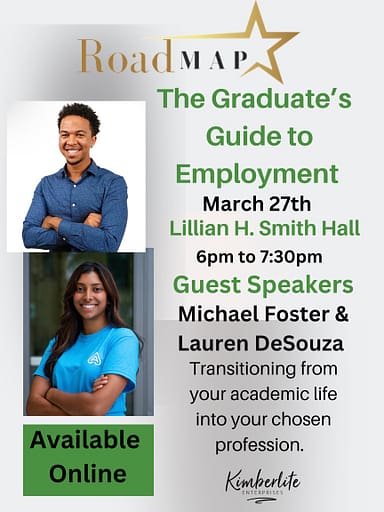 The Graduate's Guide to Employment event has been postponed. A new date and time will be announced soon! Stay tuned and follow us on social for more updates:
Instagram: @kimberlite_enterprises
Facebook: Kimberlite Enterprises
LinkedIn: Karen (Joy) Foster
Featuring my guest speakers Michael Foster, Creative Engineer, Onyx Scholar, Content Marketing, Innovator at Storeforce & Lauren DeSouza, Co-Founder & CEO of ACE.
Road Map, is so needed today for our students, I cannot speak enough about this phenomenal platform and it's worth! Students attending high school / post secondary can attend any event, be inspired, motivated and the guidance, providing them with tools to navigate and apply throughout their academic years and life.
Whatever the topic of conversation that arises, Road Map will always remain relevant, current, addressing all concerns students face.
Michael and Lauren are both graduates from university, experienced in their fields and have the walked the road, finding employment with the degree they earned and starting a business.
Throughout their powerful presentation you will have the opportunity to learn from two great speakers, how to use their proven knowledge, life experiences and skills to develop a successful guide to employment.
I have heard and listened many times of students frustrations, now you have no excuses. Road Map, providing students with the valued resources from your peers/speakers who have walked before you!!